Standard Tamper For Speciality Coffee Ø39,3mm-Ø58,6mm American Cherry Tree
Product detailed description
The tamper base is made of stainless steel with crafted wood handle. Suitable for all standard coffee machines. You can choose your base size below.
Hand made in the Czech Republic.
Name: American cherry
Latin name: Prunus serotina
Place of origin: Eastern North America
Tree dimensions: height 15-30 m, trunk diameter 1-1.5 m
Density of dry wood: 595 kg/m³
Color: the core is light pinkish brown to golden brown, the white is pale yellow.
Thank you for visiting our online store of the manufacturer HEAVY TAMPER, which mainly produces tools for espresso preparation.
Espresso tampers are our profession, so we would like to introduce you to this barista enthusiasm.
How to prepare the best espresso? Simply, (if I skip the pile of information), so the most important thing is to have the exact diameter of the base.
Here is a simple procedure:
Grind espresso beans with the correct weight according to the basket you are currently using.
Now use the WDT (Weiss Distribution Technique), because it grinds lumps of the ground coffee, so the espresso ground coffee is evenly distributed in the basket and thus extracted evenly.
A distributor beautifully aligns the ground coffee in such a way that you just want to pick up the tamper that is thanks to the alignment of the coffee in plain ( by the way - I would avoid distributors that have some flat surfaces on the bottom as opposed to sharp edges. With this coffee distributor you just flatten the coffe and not align).
Tamping for 8-15 kg is more than enough.
Another integral part for preparing espresso is the handle of tamper. Wood is the most pleasant, so we have prepared a whole range of them for all connoisseurs who love the beauty of wood species, including exotic ones. It is not even a problem to find the most interesting wood such as ebony, etc.When it comes to handle design, we love all the shapes, but we've pretty much stuck to just a few; with some, the height can also be adjusted using the "o" ring, e.g. with the King Style and Heavy T. models, which is very practical.
And finally, we wish you a convenient selection of tampers for your espresso coffee machine.
For a better orientation in the diameters of the bases, see the table below.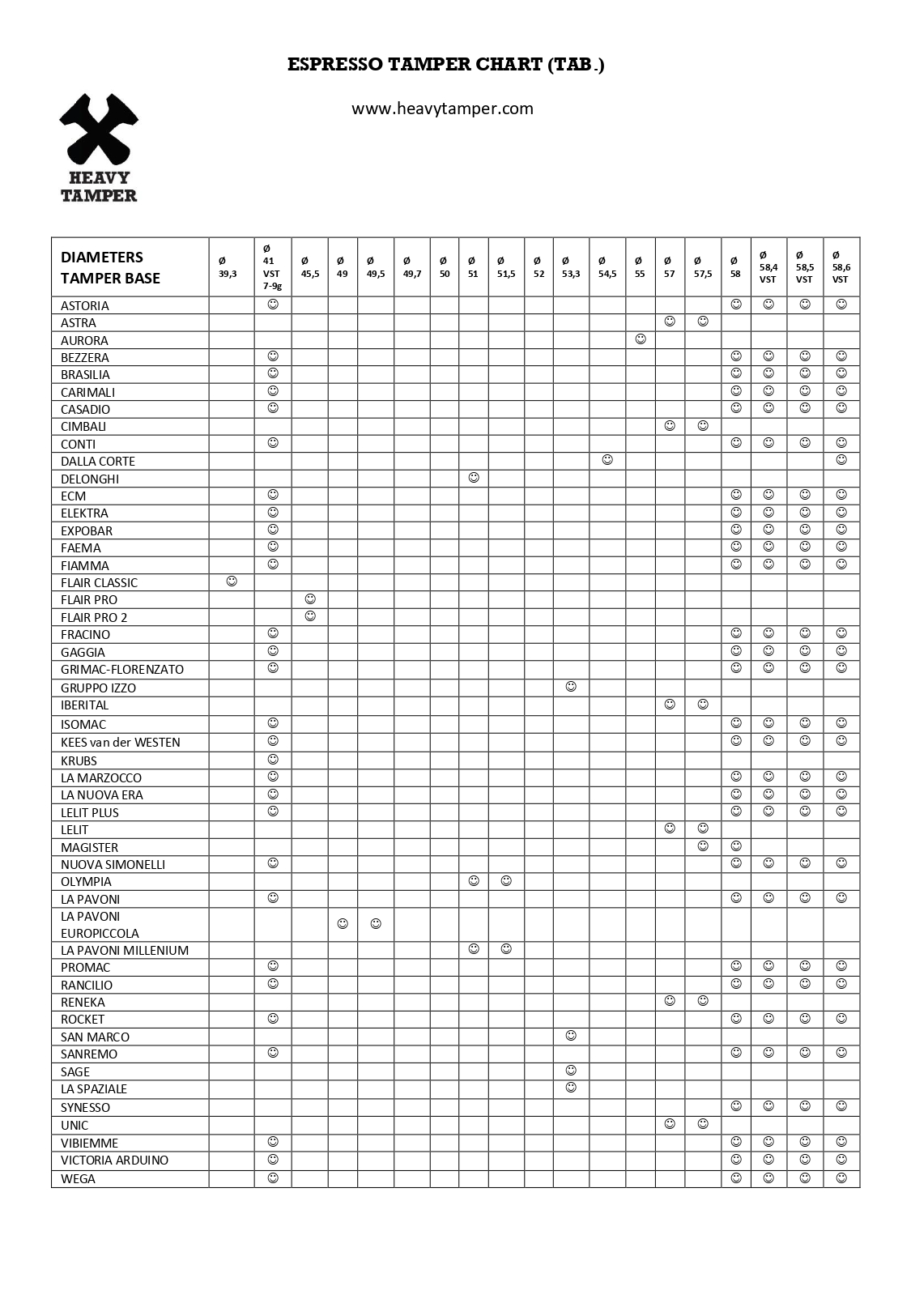 Tamper